The Numbers
The Good News About Marriage covers five areas of little-known but encouraging news about marriage and divorce,debunking five common myths in the process. Below are data tables sharing some stats central to one of those areas: debunking the 50% divorce rate.
There are many different ways to look at the divorce rate. But in our view, the most compelling is the fact that 71% of women are still married to their first spouse –and many of those that aren't still married are widowed, not divorced.
It is vital to share this simple data. One reason the discouraging myths have gotten so much traction is that up until now, the discouraging notions (like the 50% divorce rate) have been ultra-simple and clear but the encouraging numbers were not.
With no simple hook, none of the very real good news has made it into our conventional wisdom. So the bad-news conventional wisdom –some of which is accurate, much of which isn't — has spread unchecked. That is one main reason we wrote the book.
It is also why I am putting together these simple, sharable tables. It is crucial to present key good news truths in a way that is just as simple as the bad news myths we are trying to counter. That means trying to simplify an extremely complex field to focus on the most important good-news nuggets. It means having the technical understanding of all the complexities but not feeling compelled to try to explain them in a five minute TV interview, or even a fifty minute counseling session. (Some may say that this is oversimplification. We don't agree, since we are also being rigorous about accuracy. But regardless, many of the statements that discourage people – such as the research community's consensus projection of a 40-50% divorce rate one day – are themselves very oversimplified as well.)
Below is one summary table – drawn directly from 2009 Census Bureau data – which outlines these key truths worth sharing:
–       The percentage of women still married to their first spouse and second spouse, on average, is 71% and 65% respectively. Note that although 41% of the baby-boomer generation (the highest-risk group) was divorced by age 50-59, their high divorce rate is primarily because of second and third marriages. As you can see, 72.5% of women even in that high-risk group are still married to their first spouse! (And remember, some of the 27.5% of that group that aren't still married lost their spouses to death, not divorce.)
–       On average, including all marriages (including second and third marriages) 30.8% of women have been divorced.
CLICK HERE TO DOWNLOAD THE SIMPLE SUMMARY TABLE AS A PDF
CLICK HERE TO DOWNLOAD THE DETAILED TABLE AS A PDF (INCLUDES ALL THE CENSUS BUREAU DATA THAT THESE NUMBERS WERE CALCULATED FROM.)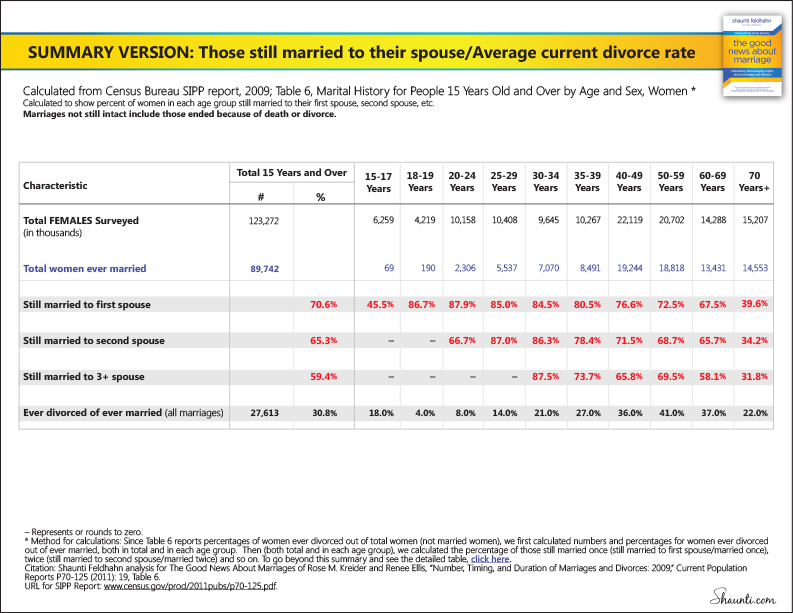 CLICK HERE TO DOWNLOAD THE DETAILED TABLE AS A PDF
[clear][/clear]