Changing Our Conventional Wisdom About Marriage and Divorce ...
may lead to changing other things. How do we think, talk, counsel or teach differently?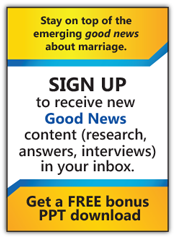 Here, you will find tools to help; like interviews with senior pastors and therapists who discuss what this Good News means and what they might do differently.  You'll find several items promised in the book including Three Sample Models of Marriage Ministry, and a handy printable summary of the book's findings. You'll also find an area where Shaunti and Tally will regularly address new "but what about…?" questions – including (where needed) analysis of news stories and studies that support or challenge their conclusions in the book.
Over the next few months we will be adding new content regularly; for example, new research, new print or video interviews with leaders about this paradigm shift, and ongoing efforts to address new questions that arise. (Feel free to submit your questions via our contact page.)
Subscribe to our quarterly Leader's email list. You can unsubscribe at any time.